Day two, and Canada's magnificent Yukon Territory.
This is actually our second trip through Canada in The Beluga. In 2014, Zuzi sent me down to Portland, Oregon to shop for used RVs. We'd been searching Craigslist and the Alaska classified for months, but couldn't find what we were looking for. So we turned our attention south toward more populated parts of the country.
We found what we were looking for, but how to get the new (to us) house-on-wheels up to Alaska? We talked through a variety of plans and settled on the absolute coolest option; we burned a bunch of Alaska Air miles to get the four of us down to Seattle to bring it up as a family.
On that three-week trip north, we roamed as far east as Banff before turning northwest for the trek back up to Alaska. Having so recently spent time touring Canada in the spring, we decided to put the pedal to the metal to blaze south to Washington state in just four or five days.
Our "Canada Plan" was a three-stage effort.
Step 1: Drive hard through eastern Alaska and the Yukon.
Step 2: Decompress in the steaming mineral waters of Liard River Hot Springs, a family favorite from our 2014 trip.
Step 3: Soldier on through British Columbia and the breathtaking Fraiser River Valley to begin our exploration of the western U.S. national parks.
It's been my experience that the challenging road conditions along the ALCAN are – if anything – underemphasized. The roads on both the Alaska and Yukon sides of the border were either rough or torn up for reconstruction. Regardless, we made good time.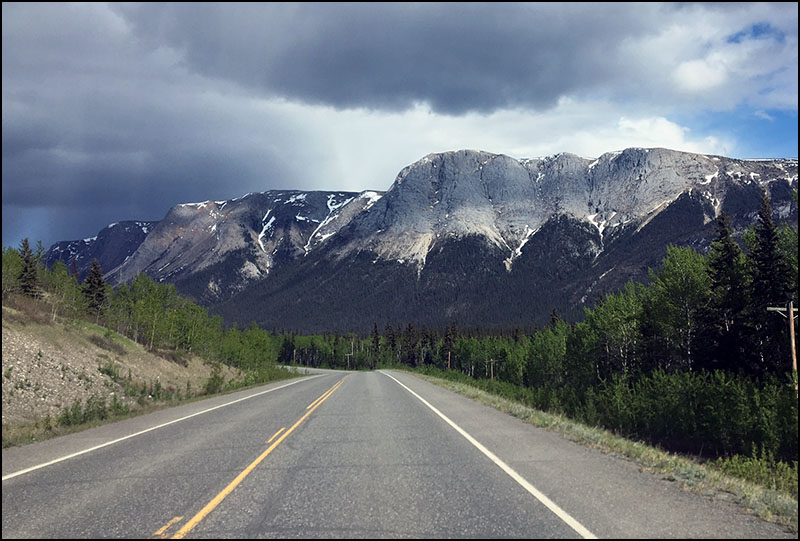 Despite our aggressive schedule, we built in opportunities to do some things differently this time through Yukon.
On our 2014 trip, we did our best to keep out of developed areas; focusing instead on enjoying the natural wonder of Canada. Of course we wallowed in the rugged remoteness on this trip, but we also stopped at some of the impressive cultural centers along the way. Notably, the Da Kų Cultural Centre – collocated with the Haines Junction Visitor Information Centre – and the Yukon Beringia Interpretive Centre in Whitehorse.
The Kluane National Park and Reserve of Canada abuts the Wrangell-St. Alias National Parks in Alaska. Together they form one of the most astonishing expanses of mountains and glaciers on the planet. Da Kų hosts interactive displays that showcase this amazing region while showcasing Tlingit culture and history.
We also stopped to stretch our legs in Whitehorse, roughly 100 miles of east of Haines Junction. The Yukon Beringia Interpretive Centre is a small museum; just two modest exhibit halls and a theater where we watched a fascinating historical documentary on the intermittently forming glacial subcontinent, Beringia.
Despite the unassuming  size, the staff and museum supporters in Whitehorse have really turned the museum into something special. The kids had an absolute blast and we stayed far longer that we intended. So long, in fact, that we had to forego hiking Miles Canyon to maintain our hopes of a full day at the hot springs.
With British Columbia in sight and a relaxing soak in Liard hot springs on our minds, we motored out of the Yukon. We left with a renewed appreciation for natural splendor of Canada's smallest and most rugged territory. But this time through, we learned a lot more about the culture, history and pride of the Yukon people.
[wpsm_comparison_table id="1″ class=""]